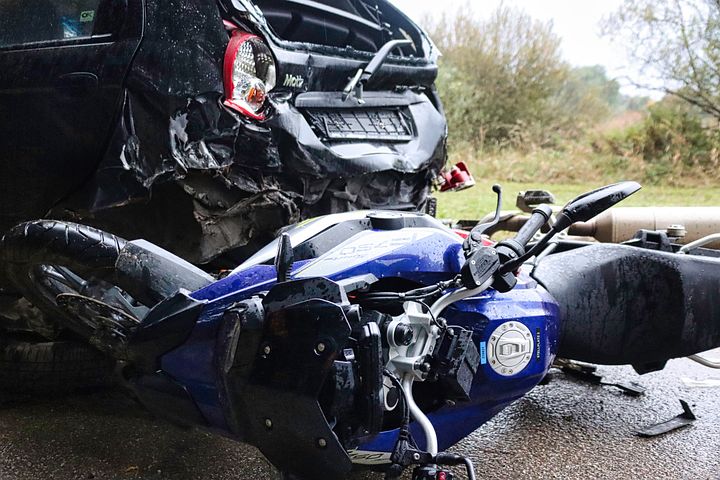 Motorcycle accidents in Massachusetts
As a rider myself, I know how dangerous it can be on the roadways for motorcycles. Motorcycles can be difficult for other drivers to see and are often not given the proper amount of space on the roads to stay safe.
There are a few important rules to remember when operating a motorcycle in Massachusetts:
▸ Motorcycle Helmet Law: Massachusetts General Law, Part I, Title XIV, Chapter 90, Section 7, states all motorcycle drivers and passengers are required to wear a helmet that meets minimum required safety standards as laid out by the United States Department of Transportation. Failure to wear a helmet can significantly impact any lawsuit you file with the courts.
▸ Insurance Requirements: in Massachusetts, motorcyclists are required to buy compulsory liability insurance coverage which pays for the other drivers' medical expenses, vehicle repairs, and other costs in the case of an accident. According to the RMV, the requirements are as follows: Bodily injury to others―Minimum $20,000 per person, $40,000 per accident. Damage to someone else's property―Minimum $5,000 for property damage. It is important to note that unlike most no-fault states, motorcyclists in Massachusetts are not required to buy PIP (personal injury protection) insurance, nor are they covered by it.
▸ Statute of Limitations: the statute of limitations in Massachusetts is three years from the date of the accident for any accident, including motorcycle accidents.
▸ Prohibition on lane splitting: The practice of lane splitting, or lane sharing, occurs when motorcyclists ride between lanes of stopped or slow-moving vehicles. While it may make a commute easier, lane splitting is prohibited under Massachusetts law.
Most motorcycle accident are serious in nature, as the rider is less protected. If you are a victim of a motorcycle accident you could be entitled to the following:
Medical expenses
Rehabilitative services
Lost wages
Loss of earning capacity
Pain and suffering
Property damage to your motorcycle
After a motorcycle wreck caused by someone else's negligence, you should always contact an experienced attorney, for the best chance of recovering the full compensation you need and deserve. Vargo Law has successfully handled serious, devastating motorcycle accidents in the past and we know first-hand the effects of negligent drivers. If you have suffered serious injury from a motorcycle crash that was not your fault, contact us at 413-781-3000 for a free consultation.